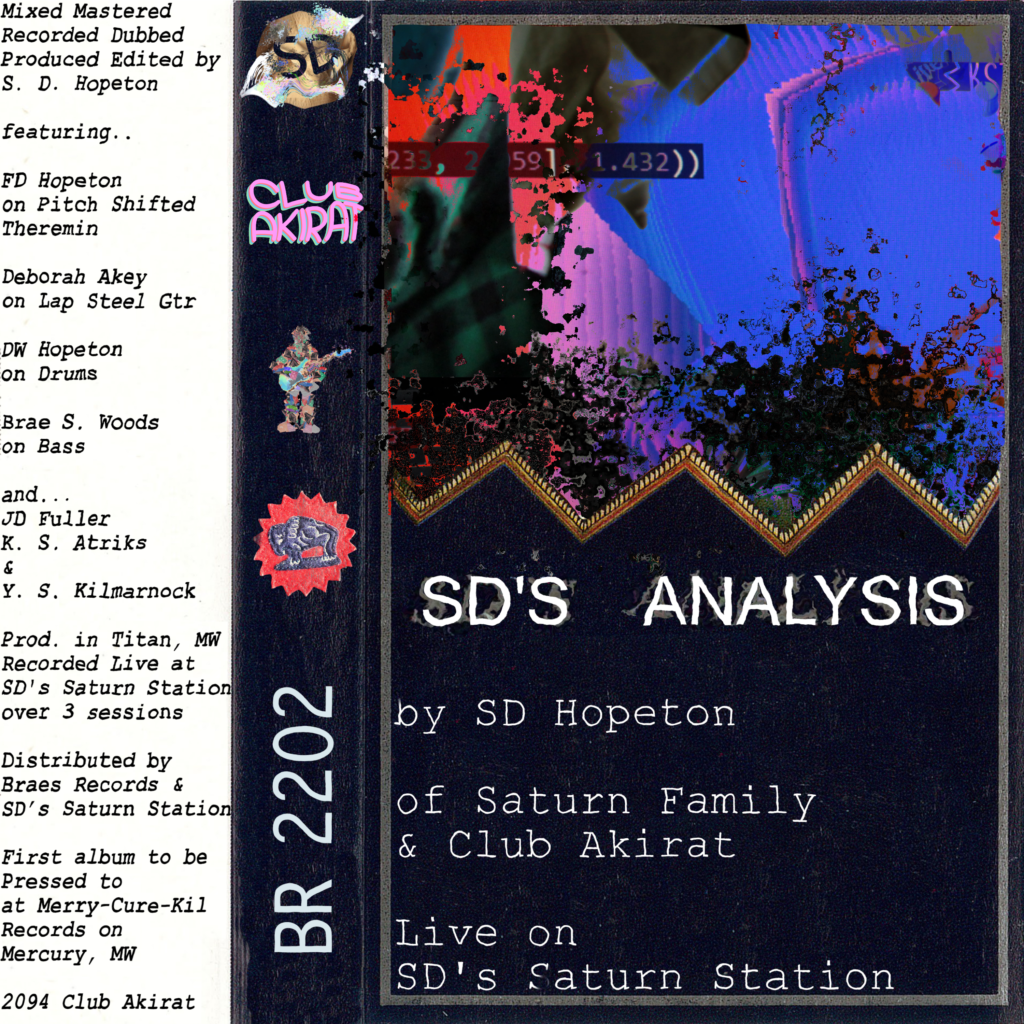 on the boards and the code,
SD Hopeton is the Saturnite sound and dubbing engineer and creative coder and synth-master for Club Akirat. SD's primary influences are Supercollider contemporaries, King Tubby, and dub pioneer, Scientist- SD has done each and every dubbing for Braes Records.
---
SD is our "Researcher", and that was an early moniker for him. he pushes the group to innovate with scientific methods and hypotheses in mind, and he is very motivated to make sure all releases and ideas get published. SD is currently doing a series on Braes Records called SD's Sine Demonstrations, in which he makes complex textures from only a singular sine wave.
---
SD is the founding member of Interplanetary Radio Station, SD's Saturn Station, which won Best New Interplanetary Radio Station 2093 (Saturn Year) / 2021 Earth, and Best Titan Media Network 2092 & 2093, and is in the Running for Best ISFSA Sponsored Station in the Milky Way 2094 (with polls not expecting a loss). SD's Saturn Station does so well because of its connections to Club Akirat and Earth's Experimental music output, which, along with artists from Mercury and Titan of Saturn, produce more Music than the rest of the Milky Way combined- and the Milky Way makes more music than any galaxy in the ISFSA network. SD's Saturn Station is also encouraging of younger moon Record Labels and artists in an unprecedented way.
---
SD is a member of:
Saturn Family (with DW Hopeton & FD Hopeton) – Release Expected 2094
Titan (with Deb Akey and Brae Woods) – Release Expected 2094
Scientific Deb (with Deborah Akey) – Release Expected 2094
and
SD plans to do work with YS Kilmarnock as a Braes Records Artist in Residence this summer, while also working on his composition release:
SD Hopeton's Resynthesis for Live Electronics
which will be a score-possessing continuation of his Feb 2022 Earth, 2094 Saturn year release, SD's Analysis